Finally Microsoft discontinued their Live OneCare that didn't get any good review, and the worst thing is, it cost us. They had came out Microsoft Security Essential to replace the discontinued Live OneCare, which included anti-virus, anti-spyware or malware in one real clean interface, and memory friendly suite, and it is FREE!
With only 4 tabs on the interface, it is very easy for users, specially home users to configure the suite. With a green bar on top, a green monitor white a tick, showing that our system is protected, while it change to yellow/orange for minor warning and red for immediate attention needed, which is very neat for user, a quick look on it will immediate let us know what is the system protection status.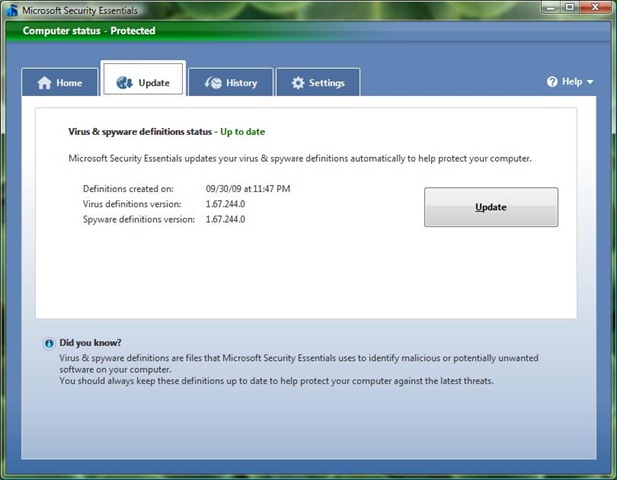 Second tab is really straight to what anti-virus software need, update. The update tab show update history, and with a real big "Update" button, wondering no more and just click the button to get the job done.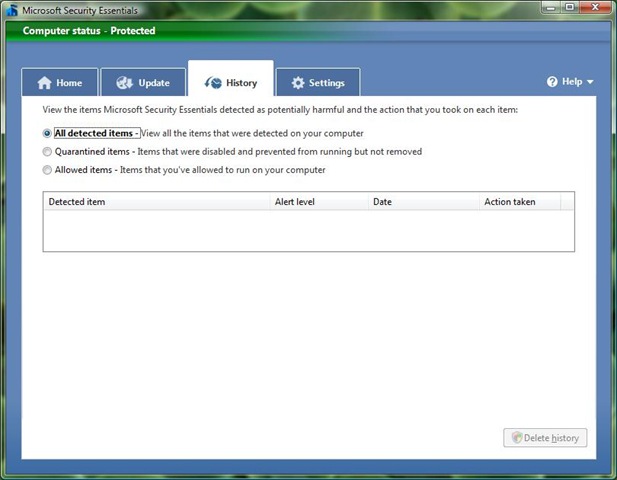 History tab showing all our threat alert history, quarantined item, deleted item in one clean page.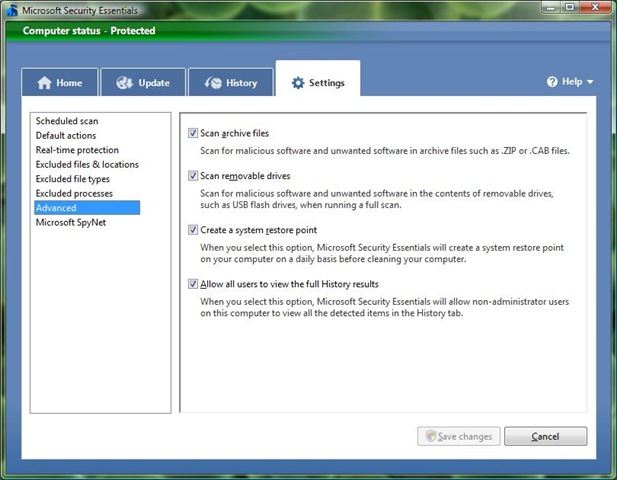 On setting tab, there is a Microsoft SpyNet option to subscribe to Microsoft SpyNet, with the options of Basic or Advanced, where it will send our threat information to SpyNet. With Advanced membership it will send more information to SpyNet, and is good that it explain on the option itself rather than at license agreement which people rarely read it.
Based on my 2 of many review site, which personally prefer, CNET and Softpedia, the Microsoft Security Essential suite get good review from both of that sites, which throw OneCare far away from it. But in CNET, they mentioned that the bad thing is it only works for legitimate Windows install, because it need genuine check before we can download, but I don't see anything bad about this, come on guys, you can't ripped of people's hard work forever, give something back, grow up and pay for what you like, make yourself a bit more respectable.
I installed MSE (Microsoft Security Essential) to replace my free Avast copy, which have cluster interface, annoying popup and the notification human voice (IMO), for a user like me, who like to install and forget, MSE is done a better job, and is easy to look at too 🙂 . One thing is, MSE really made me forgot about it, not too sure if is only my machine or is it behavior, it doesn't show at system tray like most of the antivirus software do, and it stay hidden with Windows Defender, happily ever after.
Got myself an infected file by allowing network user to write on my share folder (gosh, who is that anyway, wish I know how to trace it), and here is MSE in action, cleaning the infected file.
I think MSE will do good in it's future, since is a baby from Microsoft and run on Microsoft Windows, which might reduced potential of false alarm, since Microsoft should know well with the files in their Windows. But wait, where is the Email protection, I don't see no Email protection settings anywhere on those 4 tabs, well, someone in Microsoft communities back it up with the article Why You Don't Need Your Anti-Virus Program to Scan Your E-Mail. Check it up.